Official!

This article is official! This means that it is a part of the published Rainbow Magic series.
Thea the Thursday Fairy

Race
Fairy
Gender
♀ Female
Series
Fun Day Fairies
Magical Item(s) / Animal(s)
A pink Fun Day flag
Symbol(s)
Dark purple sun sparkles

Thea the Thursday Fairy is the fourth fairy in the Fun Day Fairies series.
Fairy Profile from the Official RM Facebook Page:
Thea is a bit mischievous. Even though she's in charge of a school night, she likes to stay up late, which is why when Friday morning comes around, she's always yawning. Thea's wand sends out brilliant pink sparkles.
Appearance
Thea has long, blonde hair pushed back by a pink headband. She wears a lilac dress with a white belt round the middle and white boots. She has an amethyst pendant necklace around her neck. Her wings are lilac tinted.
Magical Object/Job:
Job: She makes sure Thursday are full of fun.
Object: Pink Thursday flag. 
Trivia
Etymology Thea is named after a friend of the book's author, Sue Mongredien. In the Special Thanks section, the book is dedicated to "Thea Rose Killacky Wheeler".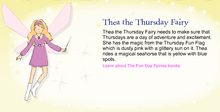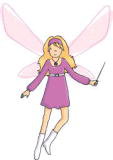 Ad blocker interference detected!
Wikia is a free-to-use site that makes money from advertising. We have a modified experience for viewers using ad blockers

Wikia is not accessible if you've made further modifications. Remove the custom ad blocker rule(s) and the page will load as expected.