Official!

This article is official! This means that it is a part of the published Rainbow Magic series.
Rebecca Wilson

Race
Human
Gender
♀ Female

Rebecca Wilson is a human who appeared in Danielle the Daisy Fairy's book.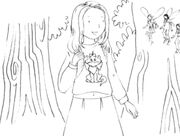 Appearance
Rebecca looks taller than Rachel and Kirsty. She has long blonde hair, much like Danielle's and she wore a jumper and a skirt.
Biography
When Rachel and Kirsty were unable to get the daisy petal, Rebecca saw what was going on and lent them a hand. As thanks, she was given a magic daisy chain, and promised to never forget the fairies or her friends. She is the only human besides Rachel and Kirsty to know about the fairies, goblins, Jack Frost, and Fairyland. She has a family.
Trivia
The cat on her sweater looks similar to Marie, a character from the Disney movie The Aristocats.
Do you like Rebecca Wilson?