Welcome to the Rainbow Magic Wiki
Rainbow Magic Wiki is a wiki dedicated to the popular children's book series "Rainbow Magic". 
Written by an array of authors under the name "Daisy Meadows" and originally illustrated by Georgie Ripper, the books were created by Working Partners, owned by HIT Entertainment and are published by Orchard Books, a division of Hachette Children's Group. Over 200 books have been published in sets of seven or four, including several specials which are thicker and larger than the usual books. Also available are special books published by Scholastic for young readers with coloured pictures and easier, larger words.
Recent and upcoming releases
Upcoming One-Off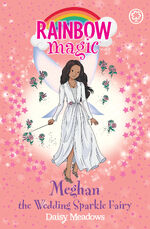 Meghan the Wedding Sparkle Fairy
19th April
Meghan the Wedding Sparkle Fairy is the 10th fairy in the One-Offs series.
Join best friends Rachel and Kirsty for a very magical Royal Wedding!
Meghan's special magic looks after the magic of matrimony everywhere. But when naughty Jack Frost steals her magical triple-jewelled engagement ring (that she wears on a charm round her neck), he breaks the spell of love in both the fairy and human worlds! Couples and best friends everywhere keep falling out, and forgetting what it is they love about each other. Kirsty and Rachel must help Meghan get her ring back before the Fairyland royal wedding, and weddings everywhere, are ruined!