Welcome to the Rainbow Magic Wiki
Rainbow Magic Wiki is a wiki dedicated to the popular children's book series "Rainbow Magic". 
Written by an array of authors under the name "Daisy Meadows" and originally illustrated by Georgie Ripper, the books were created by Working Partners, owned by HIT Entertainment and are published by Orchard Books, a division of Hachette Children's Group. Over 200 books have been published in sets of seven or four, including several specials which are thicker and larger than the usual books. Also available are special books published by Scholastic for young readers with coloured pictures and easier, larger words.
Recent and upcoming releases
Upcoming Fairy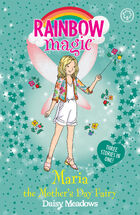 Maria the Mother's Day Fairy
8th February
Maria the Mother's Day Fairy is the 43rd fairy in the Holiday Special Fairies series.
Join Kirsty, Rachel and Maria for some fun with mums!
Maria the Mother's Day Fairy looks after mums everywhere and makes sure they get on well with their sons and daughters. But when Jack Frost steals her magical objects, the magic of motherhood goes all wonky! Can Kirsty and Rachel help restore order in time for the special surprise they have planned for their mums?... Read more
Ad blocker interference detected!
Wikia is a free-to-use site that makes money from advertising. We have a modified experience for viewers using ad blockers

Wikia is not accessible if you've made further modifications. Remove the custom ad blocker rule(s) and the page will load as expected.