Official!

This article is official! This means that it is a part of the published Rainbow Magic series.
Prince Arthur and Princess Grace

Race
fairy
Gender
mixed

Princess Grace is a royal princess and Prince Arthur is a royal prince. They got married in the afternoon of Spring 2012.
Appearance
Princess Grace wears her long golden hair up in a bun. On her wedding day, she wore the True Love Crown and a long, white, strapless dress. In Frances, she wore her hair in a long ponytail. 
Prince Arthur has his fair hair in a quiff and usually wears a suit.
Trivia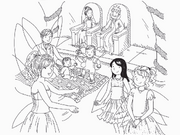 Do you like Grace and Arthur?
Ad blocker interference detected!
Wikia is a free-to-use site that makes money from advertising. We have a modified experience for viewers using ad blockers

Wikia is not accessible if you've made further modifications. Remove the custom ad blocker rule(s) and the page will load as expected.