Official!

This article is official! This means that it is a part of the published Rainbow Magic series.
Prince Arthur and Princess Grace

Race
fairy
Gender
mixed

Princess Grace is a royal princess and Prince Arthur is a royal prince. They got married in the afternoon of Spring 2012.
Appearance
Princess Grace wears her long golden hair up in a bun. On her wedding day, she wore the True Love Crown and a long, white, strapless dress. In Frances, she wore her hair in a long ponytail. 
Prince Arthur has his fair hair in a quiff and usually wears a suit.
Trivia
Grace is Queen Titania and King Oberon's niece.
They have two children, Prince George and an unnamed baby.
They are a parody of Prince William and Kate Middleton, as they are used to reflect the real world events of the Duke and Duchess in the Rainbow Magic series.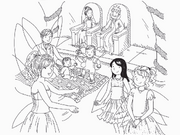 Do you like Grace and Arthur?