Official!

This article is official! This means that it is a part of the published Rainbow Magic series.
Paloma the Dodgems Fairy

Race
Fairy
Gender
♀ Female
Series
Funfair Fairies
Magical Item(s) / Animal(s)
--
Symbol(s)
Dodgem cars

Paloma the Dodgems Fairy is the third fairy in the Funfair Fairies series.
Summary
Paloma the Dodgems Fairy loves crashing around in bumper cars! But when Jack Frost steals her magical object, the bumps stop being fun. Kirsty and Rachel must help defeat him, before the funfair is totally wrecked.
Appearance
Paloma has light brown shoulder-length hair with a black hat and glasses. She wears a blue denim dress over a white t-shirt and beige ankle boots. Her wings are rounded and lilac tinted.
Symbol: Dodgem cars.
Magical object/Job
Object: ?
Job: Making sure dodgem cars work properly. 
v - e - d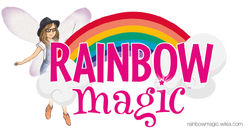 Locations
Human world: TBA

Ad blocker interference detected!
Wikia is a free-to-use site that makes money from advertising. We have a modified experience for viewers using ad blockers

Wikia is not accessible if you've made further modifications. Remove the custom ad blocker rule(s) and the page will load as expected.