Official!

This article is official! This means that it is a part of the published Rainbow Magic series.
One-Offs

Logo
Izzy the Indigo Fairy

The One-Off Fairies are a series within the Rainbow Magic franchise in which each story is focused on a different fairy that is neither a part of a set nor considered a Holiday Special fairy. These fairies generally only have one object and have little relation to other fairies. Like special fairies, though, they are responsible for making sure their assigned event or aspect is safe from danger and problems happening.
Problem
Kirsty and Rachel are usually at an event when they meet the fairies. An item that helps with the fairies' jobs is needed to be rescued.
The Fairies
Hannah met Kirsty and Rachel while opening a Sleeping Beauty Pop-Up Book in Tippington Bookshop. She has blonde hair and wears a simple blue dress and matching ballet pumps. Without her magic, stories will have no happy endings.
The girls saw Kate after having a roller skating session in Tippington Park. She has long brown hair, a tiara and wears a white wedding dress and a veil. Without her magic, royal weddings will go wrong, such as Princess Grace and Prince Arthur's wedding.
Kirsty and Rachel met Elizabeth whilst touring the Tower of London. She has medium- length brown hair and wears a sparkling Union Jack dress with leggings and high heeled shoes. Without her magic, jubilee celebrations won't go smoothly, such as Queen Elizabeth II's.
Alexandra was found whilst the girls explored Norwood Palace. She has auburn-brown hair in a plait and wears a sparkly pink t-shirt and a matching skirt. Without her magic, royal babies aren't guaranteed a happy, fulfilling childhood.
George sprang out from behind Kirsty's fake tiara as the girls woke up. She has blonde hair, a tiara and wears a dotty yellow dress. Without her magic, royal naming ceremonies will go wrong, such as Prince George's.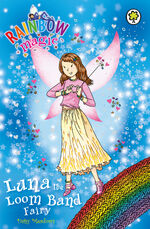 Luna was introduced to the girls when they magicked themselves to Fairyland after seeing Jack Frost. She has medium-length brown hair with her fringe plaited and wears a pink jumper, a long pale yellow skirt and jellies. Without her magic, the art of making loom band bracelets will go wrong, such as Rachel and Kirsty's.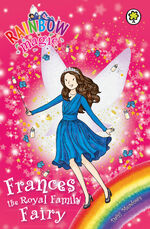 The girls were ready to go to Fairyland when Frances came to collect them. She has long wavy brown hair, a tiara and wears a floaty blue wrap-around dress with matching high heel shoes. Without her magic, royal families won't get along.
Charlotte magicked the girls into Rachel's dollhouse when they first met her. She has long wavy brown hair, a tiara and wears a white dress decorated with yellow flower patterns. Without her magic, babies won't be able to sleep well, such as Mrs Walker's friend, Emily's, child.
Tiana met the girls in the backseat of the Tates car. She wears a starry pink cardigan and a frilly white shirt with jeans. Without her magic, toys won't be enjoyed and will break.
The Land of Sweets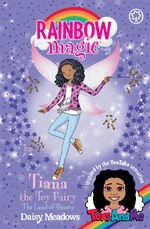 In the girls' second adventure with Tiana, they found her sitting on a disco ball at Rachel's school disco. Without her magic, children won't share their sweets fairly and will fight over them.
Without her magic, the joy of being married will disappear!
Trivia
Most one-offs are based around the Royal Family. See Royal books.
Most of the royal one-offs wears tiaras.
Tiana the Toy Fairy, being based on a popular internet personality of the same name as part of a collaboration, is the only fairy in this series (and possibly in Rainbow Magic as a whole) to have multiple books dedicated to her.
See also
Who is your favourite One-off?
Ad blocker interference detected!
Wikia is a free-to-use site that makes money from advertising. We have a modified experience for viewers using ad blockers

Wikia is not accessible if you've made further modifications. Remove the custom ad blocker rule(s) and the page will load as expected.