Official!

This article is official! This means that it is a part of the published Rainbow Magic series.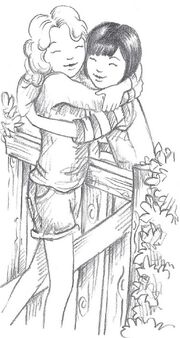 The
Magic Animal Friends
series is a new series of children's books written by
Daisy Meadows
, running alongside the
Rainbow Magic
series. Each series contains four books for four animals. The official series description is as follows:
Welcome to a magical world where animals talk and play - just like you and me! Best friends Jess and Lily love all animals. But when they follow a mysterious golden cat into Friendship Forest - a place where animals live in tiny cottages and sip dandelion tea at the Toadstool Cafe - their summer holidays suddenly become much more magical!
The Books:
Series:
Lucy Longwhiskers Gets Lost
Molly Twinkletail Runs Away
Ellie Featherbill All Alone
Bella Tabbypaw In Trouble
Sophie Flufftail's Brave Plan
Emily Prickleback's Clever Idea
Ruby Fuzzybrush's Star Dance
Rosie Gigglepip's Lucky Escape
Olivia Nibblesqueak's Messy Mischief
Evie Scruffypup's Big Surprise
Chloe Slipperslide's Secret
Grace Woollyhop's Musical Mystery
Hannah Honeypaw's Forgetful Day
Freya Snufflenose's Lost Laugh
Lottie Littlestripe's Midnight Plan
Matilda Fluffywing Helps Out
Katie Prettywhiskers To The Rescue
Phoebe Paddlefoot Makes A Splash
Millie Picklesnout's Wild Ride
Amy Snowycoat's Daring Dive
Pippa Hoppytail's Rocky Road
Lola Fluffywhiskers Pops Up
Emma Littleleap Takes a Chance
Sarah Scramblepaw's Big Step
Charlotte Waggytail Learns A Lesson
Layla Brighteye Keeps A Lookout
Ava Fluffyface's Special Day
Ella Snugglepaw's Big Cuddle
Jasmine Whizzpaws' Rescue Race (March 8 2018)
Daisy Tappytoes Dares to Dance (March 8 2018)
Polly Bobblehop Makes a Mess (March 8 2018)
Imogen Scribblewhiskers' Perfect Picture (March 8 2018)
Specials:
Poppy Muddlepup's Daring Rescue
Amelia Sparklepaw's Party Problem
Mia Floppyear's Snowy Adventure
Maisie Dappletrot Saves The Day
Holly Santapaws Saves Christmas
Anna Fluffyfoot Goes For Gold
Isla Waddlewing Breaks The Ice
Bertie Bigroar Finds his Voice (3 May 2018)
One-Offs:
Lucy Longwhiskers Finds A Friend (2015 World Book Day Special)
Early Readers:
Lucy Longwhiskers
Molly Twinkletail
Ellie Featherbill
Bella Tabbypaw (January 11 2018)
Poppy Muddlepup (April 5 2018)
Amelia Sparklepaw (September 6 2018)
Ad blocker interference detected!
Wikia is a free-to-use site that makes money from advertising. We have a modified experience for viewers using ad blockers

Wikia is not accessible if you've made further modifications. Remove the custom ad blocker rule(s) and the page will load as expected.