Official!

This article is official! This means that it is a part of the published Rainbow Magic series.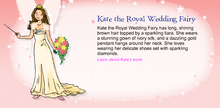 Kate the Royal Wedding Fairy is the 2nd fairy in the One-Offs series.
Appearance
Kate has rosy skin and long, shiny brown hair, topped by a gold tiara. She wears a white gown of ivory silk, light pink high heels studded with diamonds and a gold pendant. Her wings are pointy and pink tinted. 
Symbol: White flowers, pink roses and red hearts.
Magical objects/Job:
Magic Object: The True Love Crown. 
Job: Making sure all weddings, especially royal weddings, go well.
Jack Frost's Poem
The fairies are planning a royal event,
But I have a scheme that will make them lament!
I'll steal the fairy's gold glimmering crown,
And all true love hopes will come tumbling down.
Come goblins, come servants, we'll go in disguise,
And keep out of sight of those bright fairy eyes.
Only someone like me who is handsome and clever,
Can stop happy endings for ever and ever!
Trivia
She carries a bouquet of pink and white flowers on the cover and throughout the story.
She was created in celebration of Prince William and Kate Middleton's wedding in 2011.
Her book has been converted into a Early Reader book.
Etymology
Kate is named after Kate Middleton, Duchess of Cambridge. The book was written in celebration of her marriage to Prince William.
Ad blocker interference detected!
Wikia is a free-to-use site that makes money from advertising. We have a modified experience for viewers using ad blockers

Wikia is not accessible if you've made further modifications. Remove the custom ad blocker rule(s) and the page will load as expected.