Official!

This article is official! This means that it is a part of the published Rainbow Magic series.
Jessy and Amy

Race
Human
Gender
♀ Female
Jessy and Amy are identical twins who appear in Lila and Myla the Twins Fairies.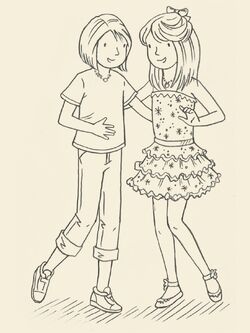 Appearance
Both girls have big blue eyes and blonde hair, but their hairstyles differ. Jessy has long hair and Amy has blonde hair cut into a bob. At their party, Jessy was wearing a pink dress and Amy was wearing cropped jeans and a red t-shirt.
Personality
Both girls seem to be friendly and full of fun. It seems that Amy is the youngest and Jessy is the oldest. Jessy's favourite colour is pink.
Trivia
Rachel says their parents have a great sense of fun!
Both girls are happy that their parents let them be themselves.
Amy is a tomboy and Jessy is a girly-girl.
Related
Lila and Myla the Twins Fairies
Ad blocker interference detected!
Wikia is a free-to-use site that makes money from advertising. We have a modified experience for viewers using ad blockers

Wikia is not accessible if you've made further modifications. Remove the custom ad blocker rule(s) and the page will load as expected.