Official!

This article is official! This means that it is a part of the published Rainbow Magic series.
Jade the Disco Fairy

Race
fairy
Gender
♀ Female
Series
Dance Fairies
Magical Item(s) / Animal(s)
a ribbon
Symbol(s)
yellow stars with green streaks

Jade the Disco Fairy is the second fairy in Dance Fairies series.
Fairy Profile from the Official RM Facebook Page:
Jade's sparkling green fairy magic flashes to a groovy disco beat. Jade wears sparkly spandex clothes, and has a sparkling personality to match. Disco ball lighting follows her wherever she goes. Everything about her is so flashy, you have to wear sunglasses when she's around!.
Appearance
Jade has long, red hair with a green star on her cheek. She wears a jade-green halterneck top with green, swirly-patterened flared trousers, green bangles and high-heeled green sandals. Her wings are pointed and green tinted. 
Symbol: Yellow stars with green streaks.
Magic Object/Job:
Job: Making sure all discos are fun and everybody's dancing!
Magic Object: A jade-green ribbon.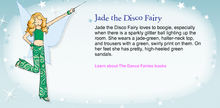 Trivia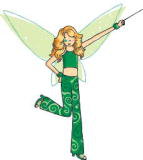 Jade's outfit was inspired by 70's disco style. 
Her Swedish name is Nina. 
Ad blocker interference detected!
Wikia is a free-to-use site that makes money from advertising. We have a modified experience for viewers using ad blockers

Wikia is not accessible if you've made further modifications. Remove the custom ad blocker rule(s) and the page will load as expected.