Official!

This article is official! This means that it is a part of the published Rainbow Magic series.
Funfair Fairies

Series
29th
Number
176-179*
Logo
None
Location
Tippington Town
Special Thanks
Rachel Elliot
Publish date
8 March 2018

Series order
Preceding

Succeeding

Rainbow Magic order
Preceding

Succeeding


The Funfair Fairies are the 29th series and represent the aspects of magic and fun at the funfair and theme parks, and are responsible for keeping all funfairs and theme parks nice and lots of fun. Without the fairies' magic, funfairs and theme park activities will be ruined.
There are four Funfair fairies and they are: Rae the Rollercoaster Fairy, Fatima the Face-Painting Fairy, Paloma the Dodgems Fairy and Bobbi the Bouncy Castle Fairy.
Problem
Kirsty is visiting Rachel for a weekend in the summer holidays. The summer fair, The Fernandos' Fabulous Funfair, is in town and the girls are excited to have fun; however, Jack Frost decides to steal the Funfair Fairies' magical key rings and the girls have to get them back.
Jack Frost's Poem
I want a funfair just for me!
(I'll let goblins in, grudgingly.)
With stolen key rings in my hand,
I'll spoil the fun the fairies planned.
Their rides will stop, their stalls will fail,
Their food will all turn sour and stale.
I'll make the goblins squeal and smirk,
This time my plan is going to work!
The Fairies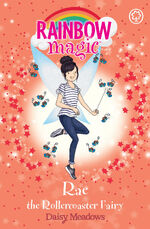 Rae has dark hair in a bun. She wears a black-and-white striped shirt with jeans and black trainers. Without her magic, rollercoasters will break down and won't be fun.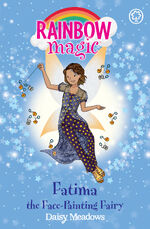 Fatima was hiding behind a mirror when the girls saw it glowing. She has short brown hair. She wears a translucent overshirt over a jumpsuit and sandals. Without her magic, face painting won't be any fun. 
The girls found Paloma in their dodgem car. She has light brown hair with a hat. She wears a denim dress over a t-shirt and ankle boots. Without her magic, dodgems will be affected.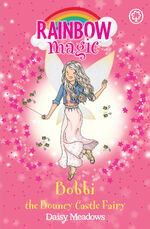 Bobbi appeared to the girls inside a deflated bouncy castle. She has long pale blonde hair. She wears a jacket over a top, skirt and sandals. Without her magic, bouncy castles will have problems. 
Who is your favourite Funfair fairy?