Official!

This article is official! This means that it is a part of the published Rainbow Magic series.
Esther Tate

Race
human
Gender
♀ Female
Esther Tate is one of Kirsty's cousins. She appears in Mia the Bridesmaid Fairy and is mentioned in Alexandra the Royal Baby Fairy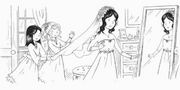 Appearance
Esther has dark hair like Kirsty's. It is styled like Kirsty's too in her wedding, but her hair is normally long and curly/wavy. Esther is short and kind.
Family
Her mum is called Isabel and it is unknown what her husband is called. We know that he is blonde. It is revealed in Alexandra the Royal Baby Fairy that she has a child.