Official!

This article is official! This means that it is a part of the published Rainbow Magic series.
Spoilers!

This article contains spoilers! This means that it has information that may give away the contents of the story. Please consider before continuing to read the article.
Doodle

Gender
♂ Male
Series
Weather Fairies
Magical Item(s) / Animal(s)
Weather feathers

Doodle is a fictional character in Rainbow Magic. He appears throughout the Weather Fairies series.
Appearance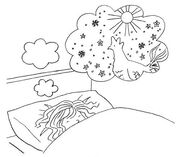 Doodle is described as an ordinary-looking iron weather vane. When each of the weather feathers are slotted into his tail, he becomes a normal cockerel for a few seconds. After the magic drains away, he turns into a rusted weather vane. 
Background
Doodle was found by Mr Tate in Wetherbury Park and fixed on the barn. After Rachel and Kirsty are whisked to Fairyland, they find out that Doodle is an inhabitant to Fairyland, who became lost after Jack Frost sent his goblins to steal the weather feathers. 
Every time the girls and the fairies return one feather, Doodle squawks part of a warning which leads to serious consequences. 
Theory 
Most likely when Doodle was born, he was born with the weather feathers, as it's shown that without them, in the Mortal World, he would become a mere weather vane cockerel. 
If this were true, Doodle would have to be thousand of years old as Fairyland must have had weather and Queen Titania and King Oberon have been ruling for one thousand years, so the most likely scenario is that when Fairyland was founded, Doodle was asked to become the weather vane cockerel for Fairyland and the Weather Fairies used his feathers to control the weather.