Official!

This article is official! This means that it is a part of the published Rainbow Magic series.
Work in progress!

This article is work in progress! This means that it's still being edited and is not complete. If nothing happens to the article for over a month, replace this with the Needs Information banner.
Cove City is a city featured in the U.S Special Editions. It is one of Rachel's favourite places to visit.
Features
Notable residents
Ivy and her family, Rachel's relatives
Jim Fay, the star player in the Cove City Gulls baseball team
Stories set in Cove City
Rachel and Kirsty are visiting Cove City to watch Rachel's cousin Ivy's graduation ceremony! They enjoy their tour around the city until Chelsea's objects have been stolen, and Ivy's ceremony is in trouble!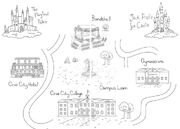 The girls return to Cove City as Kirsty's cheerleading squad is taking part in the Junior Cheerleading Competition but everything goes wrong when Carmen's objects are missing.
Ad blocker interference detected!
Wikia is a free-to-use site that makes money from advertising. We have a modified experience for viewers using ad blockers

Wikia is not accessible if you've made further modifications. Remove the custom ad blocker rule(s) and the page will load as expected.