Official!

This article is official! This means that it is a part of the published Rainbow Magic series.
Caitlin the Ice Bear Fairy

Race
fairy
Gender
♀ Female
Series
Magical Animal Fairies
Magical Item(s) / Animal(s)
Crystal the Ice Bear cub
Symbol(s)
Lilac paw prints
Caitlin the Ice Bear Fairy is the seventh and last fairy in the Magical Animal Fairies series. 
Appearance 
Caitlin has light brown skin and short brown hair. She wears a lilac coat with a fluffy, light pink collar, turquoise glittery leggings tucked into purple furry boots and her round-edged wings are lilac tinted.
Symbol: Lilac paw prints. 
Magic animal/Job:
Magic animal: Crystal the Ice Bear cub. 
Job: Teaching ice bear cubs to spread courage all over the world. 
Trivia
She carries Crystal, the ice bear cub, on the front cover. 
Her Swedish name is Isabelle.
Etymology
Caitlin is named after a friend of the book's author, Sue Mongredien. In the Special Thanks section, the book is dedicated to "Holly Caitlin Powell".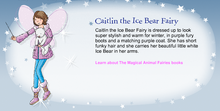 Ad blocker interference detected!
Wikia is a free-to-use site that makes money from advertising. We have a modified experience for viewers using ad blockers

Wikia is not accessible if you've made further modifications. Remove the custom ad blocker rule(s) and the page will load as expected.