Official!

This article is official! This means that it is a part of the published Rainbow Magic series.
Annie the Detective Fairy

Race
Fairy
Gender
♀ Female
Series
Discovery Fairies
Magical Item(s) / Animal(s)
 ?
Symbol(s)
Footprints & question marks

Annie the Detective Fairy is the third fairy in the Discovery Fairies series.
Description
Rachel and Kirsty are so excited to meet the Discovery Fairies, who look after some of the most exciting jobs in the world. But when Jack Frost steals Annie the Detective Fairy's magical item, detectives everywhere run out of clues! Can the girls help Annie get it back and help solve mysteries everywhere?
Appearance
Annie has long red hair. She wears a beige trench coat over a white shirt with black trousers, black shoes and a neck scarf. Her wings are round-edged and red tinted.
Symbol: Footprints and question marks
Magical object/Job:
Job: Watching over detectives.
Object: ?
Trivia
Her name on the 'coming soon' cover was Hazel however it was changed to Dani, although there is already a fairy of the same name, but with an extra n in the name.

Later, on Amazon and Hachette Children's Books, her name was changed to Annie.
v - e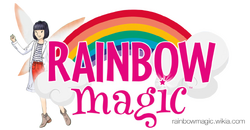 Locations
Human world: TBA