Official!

This article is official! This means that it is a part of the published Rainbow Magic series.
Amelia the Singing Fairy

Race
fairy
Gender
♀ Female
Series
Showtime Fairies
Magical Item(s) / Animal(s)
Rainbow-striped star
Symbol(s)
pink roses

Amelia the Singing Fairy is the fifth fairy in the Showtime Fairies series.
Appearance
Amelia has long, wavy light blonde hair, fixed to one side with a pink rose. She wears a long, silver sparkly dress and pink high heels and a musical note pendant. Her wings are round and grey tinted. 
Symbol: Light pink roses.
Magic Object/Job:
Job: Making sure singers keep in perfect harmony. 
Magic Object: Rainbow-striped star.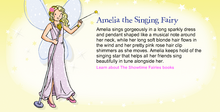 Ad blocker interference detected!
Wikia is a free-to-use site that makes money from advertising. We have a modified experience for viewers using ad blockers

Wikia is not accessible if you've made further modifications. Remove the custom ad blocker rule(s) and the page will load as expected.