Official!

This article is official! This means that it is a part of the published Rainbow Magic series.
A-OK

Race
Human
Gender
♂ Male

A-OK are one of Rachel and Kirsty's favourite boy groups. The members are Jez, Amir, Rio and Finn. They appear in Jessie the Lyrics Fairy and Adele the Singing Coach Fairy.
Click here to see more pictures of A-OK.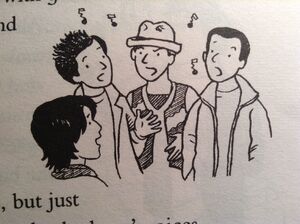 Members
Jez
Jez has scruffy black hair and wore a scarf with a jacket.
Amir
Amir has sticky-uppy brown hair and wore a shirt and a jacket.
Rio
Rio has short blonde hair with a white trilby hat and wore a shiny waistcoat and a jumper.
Finn
Finn has really short black hair and wore a jumper with a jacket.
Singles
A-OK have a single. The song name is unknown but these are the lyrics:
I'd climb the highest mountain,
Just to be with you.
I'd swim the deepest river,
Just to be with you.
Trivia
The names belonging to each boy are unknown, but it is assumed that they are drawn in the order described.
Their singing coach is Alto Adams- the best singing coach in the world.
'Gobby', one of Jack Frost's goblins joined the group but only for a few hours until he thought the other goblins had tricked him.
In the U.S. version, Jez is changed to Jeff.
Rachel and Kirsty break into their trailer.
The Angels say they're good friends with the boys.
Related
Ad blocker interference detected!
Wikia is a free-to-use site that makes money from advertising. We have a modified experience for viewers using ad blockers

Wikia is not accessible if you've made further modifications. Remove the custom ad blocker rule(s) and the page will load as expected.